Although Oscar season is far away Ron Howard's new film Rush has already been tipped to be a hot contender at the Academy Awards and on watching it you can see why. Despite being about cars and racing drivers it is not just a film for petrolheads, yet it feels like a Formula 1 race packed full of drama, emotion, tension and heart stopping moments. The last hour will certainly take you breath away!
Director Ron Howard is always an interesting director to keep an eye on as he likes to experiment with different genres with varying degrees of success. The Happy Days star has directed everything from the pretty awful comedy The Dilemma to the fabulous political drama Frost/Nixon. You therefore always go into a Ron Howard film not sure what to expect but thankfully Rush exceeded expectations and is his best work to date that will be sure to earn him an Oscar nomination for best director.
Based on the real story of the rivalry between Formula 1 racing drivers James Hunt (Chris Hemsworth) of England and Niki Lauda (Daniel
Br
ühl) of Austria in the 1970s, Rush is a look into the mindsets of racing drivers and what drives them to risk their lives every time they race. It is a brilliant character study of two very different men who have one thing in common - they were both mavericks on the track.
Rush does start off slowly as we are introduced to the two very different characters of Hunt and Lauda. A lot of time is spent developing their individual characters and their relationship meaning the first hour at points does drag. However, this is all necessary to ensure that we really get into the character's heads. Although Rush appears superficial and glamorous on the outside with plenty of fast cars and pretty girls, it's story goes much deeper and this is thanks to the wonderful writer Peter Morgan who handles it with love, care and intelligence. Morgan is a very skilled writer at adapting true stories of rivalries as seen in The Queen and Frost/Nixon, so he was the perfect man for the job. He looks deep into the relationship between the two drivers and how they drove each other to risk their lives at every race. Looking at how each driver interacted with their wives, colleagues and friends helps to create a stark contrast between the differing personalities of these two drivers.
Cleverly though, although the film focuses much on their contrasting personalities and rivalry it also looks at how the drivers admired each other and how they were friendly at some points during their relationship. Lauda himself was involved in helping Morgan write the storyline meaning we get excellent insights into the relationship between him and Hunt. It also means that the film does not stray far from the facts, but important truths such as the fact that Lauda and Hunt lived together at one point are ignored. Lauda's input into the story helps make the hospital scenes after his terrifying crash some of the best in the film. We get to see Lauda and Hunt both vulnerable and weak as they are both affected by the crash. It is the moment in the film when we really get to see what drives these people to risk their lives as we watch Lauda struggle seeing Hunt winning races as he is absent from the track. It is heart breaking and powerful stuff that will stay with you. We realise that racing drivers are humans, not just machines in fast cars built for speed.
The cast of the film are all brilliant but the two lead performances are the ones that stand out. Chris Hemsworth and Daniel Brühl are both perfectly cast as the drivers who are polar opposites. Hemsworth is dashing, playful, funny and also quite irritating as James Hunt, the golden boy who claims to have slept with over 5,000 women in his lifetime. From the first scene we really get to know his character as he staggers into a hospital after a fight and within minutes is having sex with a nurse. He represents the glamour, sex and party side of Formula 1 but we also see him vulnerable, weak and emotional as he deals with divorce and other struggles. He is not just a party boy! Brühl's character of Lauda is the complete opposite of Hunt being analytical, shy and not as open to partying and friendships. Brühl really gets into his character and portrays well the jealously that he felt at Hunt's popularity and his drive to prove he is better. The crash means he becomes the emotional centre of the film as we see him struggle for survival. Brühl here steals the whole film with a powerful performance. Both characters could have easily been really unlikable, but the actors and the writers have done a good job to ensure we are on their side throughout and develop attachments to them.
The last hour of the film makes up for the slow first hour as we enter Lauda and Hunt's second Formula 1 season together where the story and their rivalry reaches the climax. Watching it feels like you are watching a Formula 1 race as it is packed with heart stopping tension, adrenaline and emotional drama. You will undoubtedly find yourself on the edge of your seat biting your nails with anticipation as the story takes you on a rollercoaster. Full of twists and turns even if you know the facts you will still be shocked, horrified and tense as events unravel. It is an exhilarating hour that will blow you away. The races are thrilling and the action full of suspense as the competition between Hunt and Lauda gets closer and closer.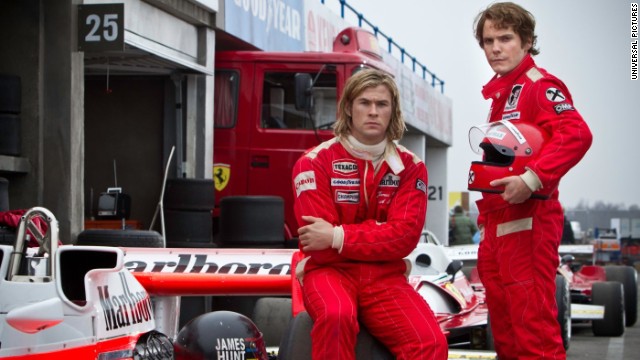 One unsung hero of the film is

cinematographer Anthony Dod Mantle

who helps make the race scenes exhilarating. He combines high speed shots with slow motion with ease and style that makes the film rather beautiful to watch. Camera shots inside the car are cleverly used to help make us feel like we are in the driving seat. Sound is also used magnificently as the cinema is filled with the growls and purrs of these engines. It is enough to make non-petrolheads drool!
Even if you go into Rush knowing every tiny detail about the story of Lauda versus Hunt you will still be moved, shocked and filled with tension by the story. Although it is slow to start off with, the last half is pure cinematic magnificence with flawless performances from the two leads, exhilarating action and heart breaking scenes. It is a triumph that will be sure to take home some Oscars during awards season.
4.5 horsepower out of 5
Words by Emily Murray