Party, drink, rave, sweat, rave, breathe, drink, sweat, drink, rave, rave, rave… That's the definitive running order of what to do at Prodigy gig. Tonight was of no exception.
The veteran rave dominators brought their show for three dates at the legendary Warehouse Project in Manchester. Throughout the past three months the famed Manchester dance venue has shown off the talents of some of the biggest names in dance, rave, techno and electronica; Axwell, Steve Angello, Knife Party, Major Laser, Nero, Disclosure, Jaguar Skills and The Chemical Brothers have all played the Victorian warehouse this season.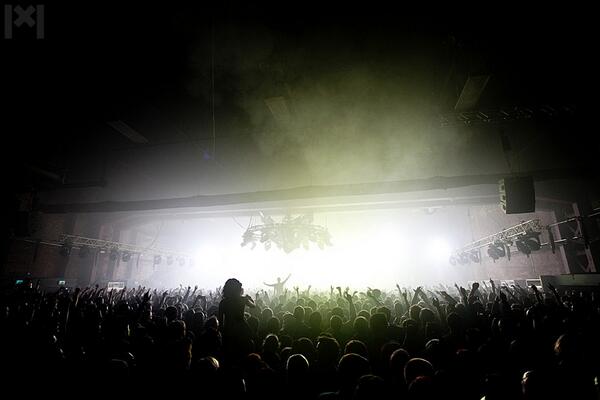 Tonight's show was supported by DJ Caspa, Jaguar Skills and a host of other rising stars in electronic music. With all this set on a cold Manchester Thursday night the set erupted at the stroke of midnight. The crowd filled with students looking for a good night out, solid dance fans and a few dozen 'middle aged' people eager to remember the 90's rave culture that cemented Manchester in the dance scene.
The threesome, all of them over 40 years old now, came out to images of angry tribal skulls with bright red eyes emblazoned on the background of the stage, and of course to a capacity 3000 strong crowd of buzzing party-goers.

Forming in 1990 they have effectively seen it all and everything that dance music has to offer. Hailed as the 'creators of rave' the group have amassed 4 multi-platinum albums with 25 million copies sold and they have gained dozens of awards including two Brits, three VMAs and two Grammy nominations.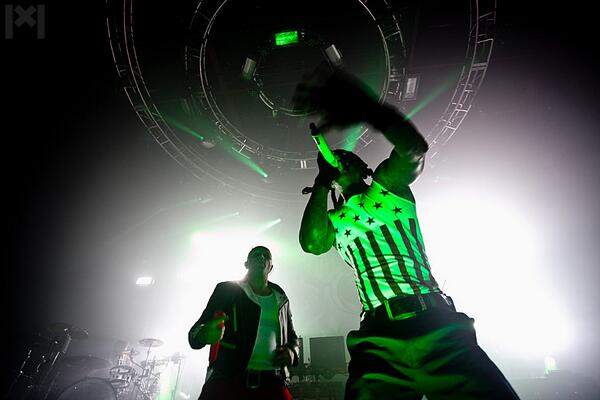 The hour and a half set that followed was a trail-blaze to their glittering career. Classic's like "Breathe" and "Omen" are played back to back to intense results. Newer tracks like "AWOL" and "Dogbite" were smashed in to keep the crowd moving like a riot in a volcano. The temperature sored but the anthems just kept coming and coming, there was no stopping this rave train!
Keith Flint roars over the crowd "You are my Prodigy people, you know what to f*cking do!" Maxim Reality then screams and the set blasts into "Invaders Must Die" a wave of astonishment passes over the crowd and carnage ensued as walls of noise, lights and lasers filled the room sending everybody mental.
"Firestarter", "Breathe", "Smack My Bitch Up", "Spitfire", "Omen" and a host more of classic tracks instated that the group are showing no signs of stopping when most people their age are slowing down, these guys want to stay speeding it up and turning life up to 11!
The set finished with adrenaline running high, Flint's horned hair are the only thing you can see on stage through a thick fog of smoke and sweat.
I have never been to a gig where the overall experience was so relentless and intense. Waking up in the middle of the afternoon, late to just about everything, feeling physically damaged and with ringing still in my ears it was a sign that this show was definitely one to remember.
The Prodigy have a host of massive shows in 2014 including a headline slot at Sonisphere and are planning a release of a new album.