The latest trailer for South Park: The Stick of Truth has been released, along with announcement for the game's release date.
Titled "Destiny", the new trailer showcases the epic quest of The New Kid at South Park Elementary School as he sets out to reclaim the stolen Stick of Truth, fulfil his Destiny as the Dragonborn and become cool.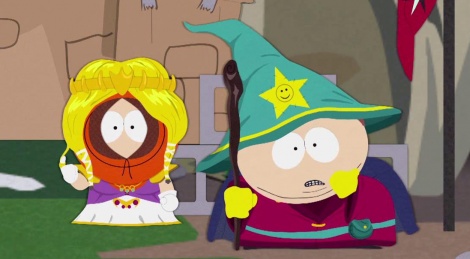 Battling his way through many of the series staple antagonists – including aliens, underpants gnomes and hippies – The New Kid is joined on his quest by Stan, Kyle, Cartman and Butters to rescue Princess Kenny and defeat the evil sorcerer Clive.
As well as the game's release date, Ubisoft have also announced a special "Grand Wizard Edition" which will be available on release from Amazon and Uplay. The Grand Wizard Edition will feature a host of additional character classes for use in the full game, as well as a map of South Park and a six-inch Cartman mini-figurine.
Fans of the series have been kept on their toes with the development of the game, after its former publisher THQ went bankrupt and was forced to sell off its upcoming and existing IP's. However the rights to The Stick of Truth were snatched up by publishing giant Ubisoft, who have been working closely alongside developers Obsidian Entertainment, and South Park creators Matt Stone and Trey Parker, to make sure the game's production runs as smoothly as possible.
The Stick of Truth will offer an ambitious experience to players, melding a deep and complex RPG experience with the series' signature graphic cartoon style. Obsidian Entertainment, whose development team have been behind many of the most highly-esteemed RPGs in the past such as Planescape Torment, Neverwinter Nights 2 and Fallout: New Vegas, have been promising that The Stick of Truth will look and feel indistinguishable from the show – which begs the question of how well their penchant for deep, complex narrative will meld with South Park's patent crudity and outright ridiculousness.
South Park: The Stick of Truth and the Grand Wizard Edition will be available on PS3 and Xbox 360 from the 13th of December. A PC version is also in the works, with Ubisoft stating that the release date will be announced at a later time.
Click here on mobiles
Words by Michael Glavin